Posts for tag: crowns
While dental implants have become the most popular restoration among both dentists and patients, it's primarily a tooth replacement — either for a missing tooth or a tooth beyond repair that must be extracted. But what if your tooth is still viable beneath its unattractive exterior? From an oral health standpoint, it's usually wise to preserve it.
Even so, you still have options for making a tooth that's spoiling your smile more attractive. One of the most effective solutions happens to be one of the oldest in dentistry: a crown. In effect, a crown is a life-like replica made of metal or dental porcelain that's bonded over a tooth. And with today's advanced materials and methods a crown can not only enhance the appearance of the tooth it covers, it can also be made to blend with the color and symmetry of adjacent teeth.
Here are a few dental situations where a crown could provide both protection for a tooth and a more attractive appearance.
Chipped, Damaged or Abnormally Developed Teeth. Teeth often take the brunt of mouth injuries, resulting in chips or even fractures. Also, teeth sometimes don't erupt fully or develop a normal shape. A crown can effectively cover these missing or abnormal parts of a tooth and restore a more natural appearance.
Following Root Canal Treatment. Trauma or deep decay can damage the interior of a tooth - the pulp and root canals - and endanger its survival. A root canal treatment cleans out and repairs these areas, filling them with a special filling to prevent further infection. A crown is usually necessary to both protect the tooth and restore its appearance.
Discoloration. There's a difference between outward staining of the enamel, which can usually be brightened with whitening solutions, and staining deep within the tooth from various causes. While there are techniques to bleach "intrinsic" staining, a crown provides another option for covering a heavily discolored tooth for a more attractive appearance.
Excessive Wear. We all experience some teeth wearing as we age; but grinding or clenching habits can accelerate that wear and shorten teeth, resulting in a prematurely aged look. Crowns restore worn teeth to a more normal length that can take "years" off your smile.
If you would like more information on crown restorations, please contact us or schedule an appointment for a consultation. You can also learn more about this topic by reading the Dear Doctor magazine article "Crowns & Bridgework."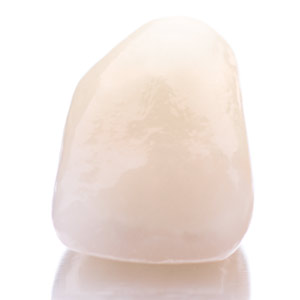 Today's crowns, the visible part of a tooth replacement system, can effectively mimic the shape and color of natural teeth. But not all crowns are equal — so it's best to be well-informed before you undergo a restoration on your natural teeth such as a single crown or bridgework — or if you need a crown on a dental implant that replaces a missing tooth.
To give you a starting point, here are 3 things to keep in mind about crowns as you consider a dental restoration.
Material composition. Most crowns in years past were made of a precious metal, most notably gold. What it lacked in appearance, it made up for in performance and durability. In recent years, dental porcelain has become the popular choice because of its ability to mimic the appearance and translucent color of natural teeth. Today's porcelains are much stronger and are used more frequently for back teeth than in years past. A common recommendation for back teeth is a hybrid crown using metal and porcelain. Metal is incorporated beneath the porcelain in this type of crown to create a strong foundation and is also used along biting surfaces for strength. Porcelain is used in the more visible areas for esthetics.
The dental technician's level of artistry. Most dentists sub-contract crown fabrication to dental laboratory technicians who may have varying levels of experience and artistic ability. A highly skilled technician can produce a crown that blends seamlessly with the patient's remaining natural teeth.
Take a "test drive" of your future smile. Although we as dentists adhere to certain aesthetic principles, beauty is ultimately subjective — "in the eye of the beholder." The final product must meet your expectations and level of comfort. If available, then, consider wearing temporary "trial smile" crowns as a preview of your new smile while your permanent set is under construction. This allows you to "try out" your future smile ahead of time, so you can make recommendations and sign off on the final set before it's finished.
Undertaking any dental restoration is an important life step, both for your health and appearance. Being well-informed — especially about the crowns that you and others will see — will help you make wise choices that lead to a satisfying outcome.
If you would like more information on crowns, please contact us or schedule an appointment for a consultation.
By Dr. Alice Charland Bassford D.M.D. M.A.G.D.
July 21, 2016
Learn about crowns and bridges from your Silver Spring dentist.
A Gallup poll found that up to a third of Americans didn't visit the dentist's office in the course of a year. Unfortunately, the longer you avoid going to the dentist's office, the higher the chance of dental problems that may require restorative work. If you've been looking for a restorative solution for your smile, crowns or bridges may be your best
option. Learn more about these common dental treatments by exploring a few frequently asked questions.

What Is the Difference Between Crowns and Bridges?
A crown is a whole covering, commonly made of porcelain, metal or ceramic material, that replaces the enamel layer of the tooth. It is bonded on top of a healthy rooted tooth that needs strengthening and protection. A bridge is a device that uses two crowns to fill in a gap in the smile from a missing tooth. The crowns cover the two adjacent teeth, called abutments. The center of the bridge called a pontic, is a false tooth that is designed to fit in with the rest of your smile.

Who Is a Good Candidate for Crowns?
Since a crown is only a superficial covering, the inner parts of the tooth have to be healthy to support it. A dentist must examine the inside of the tooth using X-rays to confirm that the tooth is healthy enough for a crown. Patients who have root canal therapy are also candidates for crowns.

Who Needs Bridges?
Someone who has one or two missing teeth and wants a reasonably secure and semi-permanent solution may benefit from bridges. The bridge is needed to help make it easier to process food, maintain the structure of the jawline and give the patient a smile to be proud of. The abutment teeth have to be healthy enough to support a crown. Generally, a good candidate for a crown will likely also be a good candidate for bridgework.

How Long Will These Dental Solutions Last?
A crown or bridge can last for between five to 15 years or even longer if you take care of your teeth. But no worries, because when the time comes your dentist can redo the crown or bridge and give you another 15 or more years to enjoy your new smile.

Contact your Silver Spring Dentist
Call your Silver Spring dentist to find out if a crown or bridge can help give you a better smile. These two restorative treatments can help fix a number of common dental problems.