Posts for: February, 2019
While oral hygiene, a nutritious diet and regular dental visits are all crucial to long-term oral health, these efforts complement what your body already does to keep your mouth healthy. One of the major players in this function is saliva.
Produced by hundreds of glands located throughout the mouth, saliva does much more than help you swallow and wash away food. As you chew, an enzyme in saliva known as amylase breaks down starches in your food to make it easier to digest in the stomach. Saliva also contains antibodies, similar to what's in tears, which can fight bacteria and other disease-causing organisms.
Perhaps its most important function, though, is its ability to protect and maintain healthy tooth enamel. The strongest substance in the body, enamel nevertheless has one primary enemy — the acid found in certain foods or as a byproduct of bacteria feeding on sugar and other carbohydrates.
When the ideally neutral pH level of the mouth becomes too acidic (nearly every time you eat), minerals in the enamel begin to soften and dissolve. The increased saliva flow when we eat floods the mouth with buffering agents that neutralize the acid and restore the mouth's normal pH level. Not only does saliva stop demineralization, but it also restores a good bit of the enamel's mineral content.
In recent years, a new role for saliva has begun to emerge as a means to diagnose disease. Like blood, urine and other bodily fluids, saliva contains molecules that serve as biological markers for disease. Given the right equipment, saliva has the potential to indicate early signs of cancer (including oral), diabetes and other systemic conditions. As the means to examine saliva for these markers increases it promises to be easier and less expensive to collect and sample than blood, while reducing the chances of transmitting bloodborne diseases to healthcare workers.
It's a lot to consider with this fluid that you hardly notice, except when it isn't there. Saliva is proof that our efforts at keeping our mouths healthy cooperate and depend on our bodies' amazing systems.
If you would like more information on saliva and other ways your body maintains a healthy mouth, please contact us or schedule an appointment for a consultation. You can also learn more about this topic by reading the Dear Doctor magazine article "Saliva."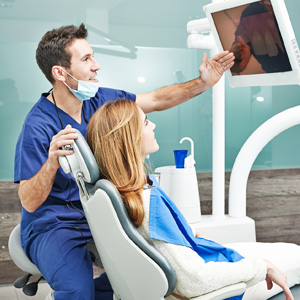 Preventing tooth decay is mostly about the basics: daily brushing and flossing followed by regular dental cleanings and checkups. But there's also a bigger picture: your own personal risk profile for decay based on factors you can modify directly — and those you can't.
The first type of factor usually involves habits and behavior that either work with your mouth's natural defenses to fight decay or against it. Besides regular hygiene, your diet is probably the most important of these you can modify for better dental health.
A diet rich in fresh vegetables, protein and dairy products boosts strong, healthy teeth resistant to decay. Conversely, bacteria thrive on the sugar in many snack foods, while sodas, sports or energy drinks elevate acid levels that soften and erode the minerals in your teeth's enamel.
Lifestyle habits like tobacco use or excessive alcohol consumption also increase your decay risk. Not only do they promote plaque buildup (the thin film of bacteria and food particles that feeds the decay process), but tobacco especially can impede the body's natural prevention and healing properties.
Conscientious hygiene practices, a dental-friendly diet and modified lifestyle habits all can help you prevent decay. But diligence may not be enough — there are other possible factors you can't control or may find difficult to change. For example, you may have a genetic propensity toward certain bacteria that cause decay. You may have a condition like gastric reflux that increases the mouth's acid level. You may also be taking medications that reduce saliva flow, the mouth's natural acid neutralizer.
But if we know which of these indirect risk factors affect you, we can compensate with extra measures. If enamel strength is a problem we can topically apply fluoride; we can also reduce chronic bacterial levels with prescription rinses. If you have restricted saliva flow, we can attempt to modify your prescriptions through your doctor or prescribe aids that increase saliva.
The key is to investigate your complete risk factor profile through a thorough dental examination. Once we know everything about your mouth, life and health that increases your decay risk, we can put in place a balanced strategy of prevention and treatment just for you. Doing so will greatly increase your chances for keeping your teeth decay-free and healthy.
If you would like more information on preventing and treating dental disease, please contact us or schedule an appointment for a consultation. You can also learn more about this topic by reading the Dear Doctor magazine article "Tooth Decay: How to Assess Your Risk."